One of the fastest growing cities across Australia, and located right on the beach, Gold Coast homeowners are increasingly installing Crimsafe on their homes and businesses and it isn't hard to see why.
Everyone wants to feel safe, and with a range of security screen products including door and window screens, Crimsafe products can be easily adapted to almost every home and business.
Let's take a look at the types of Crimsafe products offered here on the Gold Coast and how they could help you protect your home or business.
Crimsafe Door Products to Help Protect Your Home


The first of the Crimsafe products, and what most people will be well aware of, is the security doors. Suitable for:
hinged doors
sliding doors
bifold doors
stacking doors
The big benefit to Crimsafe doors is the locking system. In addition to the Crimsafe screens,  Securelux utilises a heavy duty interlocking system that provides even more security to your door. These Austral locks are designed to handle the weather conditions we see on the Gold Coast – humidity, heat, wet weather and wind. These factors, which can all happen in a matter of days, contribute to house movement. Other locks can be affected by this movement whereas Austral locks are designed to provide more tolerance.
Manufactured in Australia, these locks are consistently of high quality and provide a high level of additional security for your home.
When it comes to sliding doors, we recommend a heavy duty interlocking system that again, provides even more security. These systems are installed at the back of the sliding door which essentially means that an intruder can't rock your sliding doors and peel them away from the frame while it is locked.
Crimsafe Window Products For Even More Protection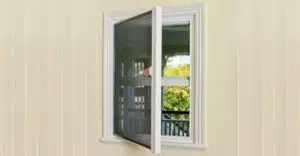 So we know there are a range of door products, but what about windows? Well there's plenty of options there as well.
Crimsafe window products include:
hinged windows
sliding windows
fixed windows
Safe-S-Cape (emergency exits)
Windows tend to be the things we leave open for fresh air without really thinking about the security risks. But with Crimsafe window screens, you can leave those windows open for fresh air and know that your home is protected.
The screw clamp technology used in all Crimsafe products essentially bites down on the mesh and holds it into the frame. The frame is the secured with tamper-resistant stainless-steel screws. When combined with the Tensile-Tuff 304 structural grade stainless steel security mesh, you end up with a window screen that transfers the force of impact around the frame rather than through the mesh.
Patio Enclosures, Balustrading and Fall Protection

Crimsafe screens can be used for more than just windows and doors. If you have a patio, these screens are a great way to enclose your outdoor area, making it another usable space sans insects, as well as providing additional storage to your home.
Crimsafe's patio enclosures are designed to really bring the outdoors in, allowing you to adapt an existing space in your home, or add in a new one. Made-to-measure, these screens are perfect for a variety of space sizes and offer floor to ceiling protection. You also have the ability to add in hinged, sliding and bi-fold doors just to make life a little easier.
Why is Crimsafe the Best Option?
Crimsafe is the leader in security screens and doors, and here's why:
Australian made
Four levels of protection to suit your home and budget
Protection from bushfires and cyclones
Screw-Clamp technology
Tensile Tuff Mesh made from 0.9mm 304 structual-grade stainless steel
10 year standard warranty, up to 15 year extended warranty
Exceeds Australian Standards
3 point locking system
Securelux offer a free measure and quote for your Gold Coast home or business. Supplying and installing a range of security screen products, our Crimsafe Gold Coast services will have your home or business protected from intruders, insects and pests, while allowing the fresh air to flow through.
Speak to our friendly customer service team today to get your Crimsafe measure and quote booked in.