Thinking of security screens for your Gold Coast home or business? Doors and windows are often the first line of defence for your home or business, and unfortunately they are usually one of the weakest points. An intruder will always try an easy to access door or window to break into your home. Good quality security screens makes breaking in more difficult, keeping your home or business safer.
We give you 6 reasons why you need security screens for your doors and windows.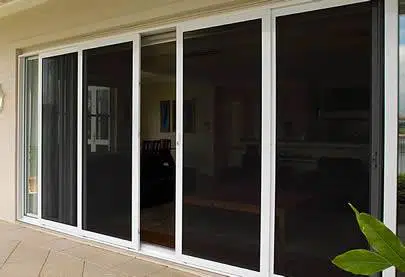 Increased Security
Of course, one of the first things that people think of when installing security screens is an increased level of security, and a high quality screen will do just that. But the key is in ensuring you actually have security screens installed and not just standard fly screen doors.
Property security screens will be more expensive, and will be overall stronger than a fly screen door found on the shelf of your local hardware store. The increased level of security that a quality screen brings, will reduce your home from the risk of theft, and give you peace of mind that your family and belongings are safe.
Increased Privacy
One of the big benefits of screens like Crimsafe is that the thicker mesh makes it harder for people passing by to see inside. The thicker mesh works almost like a two-way mirror, in that you can still enjoy the benefits of your view outside, but people cannot see in.
Keep the Insects Out
If you've been on the Gold Coast for awhile, you'll know just how frustrating it is trying to keep flies and mosquitoes out the house, especially when the kids leave the door open. While security screens won't mean the kids will keep the door closed, they can keep out insects at night and during humid weather.
Improved Airflow and Natural Light
When you're worried about security, you tend to end up closing your doors to stay safe. Good quality security screens will allow you to keep your main doors open, while still reaping the benefits of safety. Security doors, despite their thicker mesh, will let natural light in, as well as allowing for plenty of airflow – something that is important on those hot and humid days.
Protection from Storms and Fire
In recent years we've seen an increase in storms and fires on and around the Gold Coast which has put many people on edge. We all want to protect our homes and businesses, and using a security screen like Crimsafe means that you can help protect your home from embers and flying or falling debris. In terms of fires, Crimsafe screens can help reduce radiant heat, while the screens can take the impact of flying branches, hail stones and the like, lessening the impact on your doors and windows.
Adding Value to Your Home or Business Premises
When you choose a quality security screen, it tends to add value to your property. Good quality security screens for Gold Coast homes and businesses can be made to fit in with the design and colour scheme of the property, also adding kerb appeal.
Are you looking to add security screens to your Gold Coast home or business? Talk to the friendly and professional team at Securelux to find out how we can help you with security screens for windows and doors.