New
Enquire Now
At Securelux
Now Available
Crimsafe is proudly Australian Made
Need Security Screens for
Find Out More
Your New Home?
Buy Now,
Pay Later
Learn More
Enquire
T&Cs apply. See shophumm.com.au
Make Securing Your Home Less Taxing With Securelux
Onsite Consultation
Phone Call
Video Call
BOOK NOW
Securelux is proud to offer the most
security screen consultation on the market.
3 WAYS TO OBTAIN YOUR QUOTE:
SAFE & SECURE
Crimsafe Security Screens Gold Coast
If you're looking to add security to your home, you can't go past Crimsafe security screens and doors. Crimsafe is the leading provider of security screens and doors for homes and businesses across the country, ensuring home owners and business owners are less at risk of break-in's and theft.
Securelux is one of the leading suppliers and installers of Crimsafe products across the Gold Coast. Custom made and installed right here in our Brisbane factory, we're happy to help you find the right security system to protect your home or business.
We have over 38 years of experience across the Gold Coast and up to Caboolture, installing security screens and doors. Our team have years of experience and knowledge to ensure our clients get the right products to meet their needs. Our aim is to provide quality safety and reliable security options for residential and commercial clients.
Securelux is a licensed Crimsafe installer. We don't use imitation products – we only install a range of genuine Crimsafe screens and doors across the Gold Coast.
Security Screens
We provide a range of Crimsafe security screens for a variety of windows including:
Fixed windows

Hinged windows

Sliding windows

Patio enclosures

Fall protection options
Security Doors
Quality screen doors can be the first defence against theft in your home or business. We can install Crimsafe security doors on:
Hinged doors

Sliding doors

French doors

Bi-fold doors

Stacking doors

Emergency exits
One of the many benefits to Crimsafe security screens and doors is that you won't lose the look of your home, and you also won't lose your outlook to your garden, the beach or the rainforest surrounding your home. These security screens and doors blend into any home style providing a modern look. Woven steel mesh is a more attractive material than bars and grilles, allowing plenty of light and air into your home, while still providing all the security benefits.
These screens are custom made to fit any size door or window and provide good security against break-ins and theft.
Why Choose Securelux
There are plenty of reasons to choose Securelux to install your security screens and doors.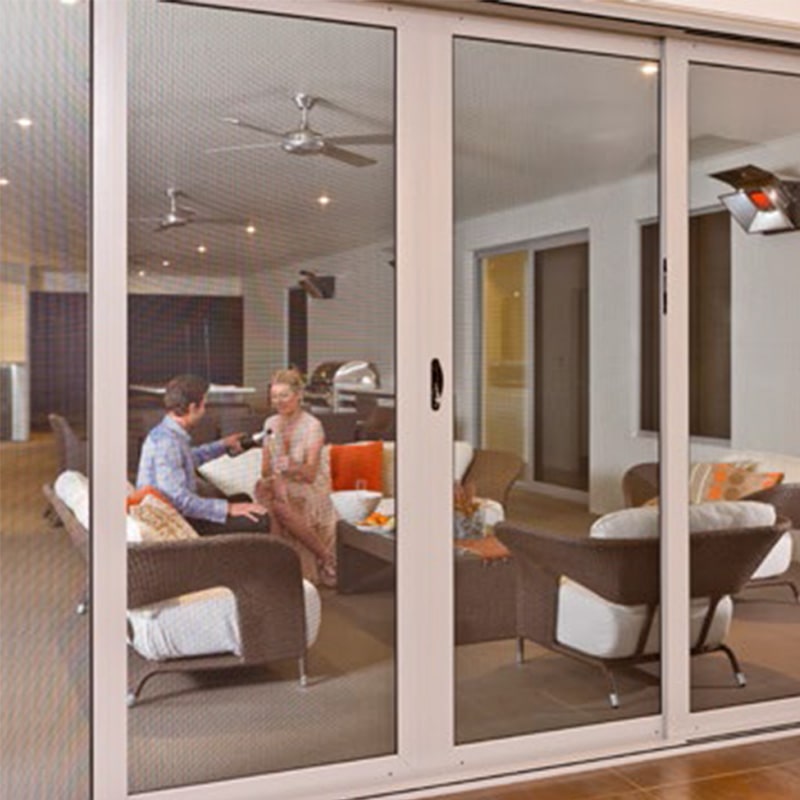 Local Security Screen Installers You Can Trust
Securelux is one of the most experienced security screen and door installers on the Gold Coast. We cover from north to south, as well as suburbs in Brisbane and up to Caboolture. If you're looking for a licensed Crimsafe manufacturer and installer on the Gold Coast, we'd love to help.
With almost 40 years' experience in the industry, our team of professional installers, as well as our office team, provide a top-quality service and product.
Our family owned and run business aims to keep providing the same great service we always have. Our installers and manufacturers are employees, not contractors. This means we know you'll always get the friendly, professional and experienced service that Securelux is known for.
If you're considering installing Crimsafe security screens and doors in your Gold Coast home or business, contact us to arrange a free consultation and quote.
When looking at getting Crimsafe installed in your home, most people want to know what the process is for Crimsafe screen installation. While it may seen like a drawn out process, it is actually quite streamlined. Let's run through how Crimsafe screen installation works with Securelux. Your first step is [...]
If you've ever considered installing Crimsafe screens, you'll have seen there there are a few different options for you to choose from. The type of screen you choose is very dependent on your area and the type of protection you are looking for from your home. Let's take a look [...]
At Securelux, we specialise in custom made security doors. And by custom made, we mean any shape, any size, and plenty of other modifications. Of course, this includes pet doors! We sympathise with pet owners because we're a family run business ourselves, so we know that pets are just as [...]
What Our Clients Say
We are really happy. You guys are amazing. You really provided the high level of security and service that we expected.
Great service from the time we contacted them through to our installation of our new Crimsafe security screens. Highly recommend giving them a call, great experience.
I was truly impressed by how professional you were. I will continue to use your services for office security and home security as well. Thanks.
We recently had Securelux install doors and window screens on our home. The doors were unusual and required specific tailoring. Securelux were very professional providing rapid turn-around from the factory as well as efficient fitting and were throughout the process not just prompt and professional but also always courteous. For a professional product and service I highly recommend the company.
Get Free Quote
Call us on 07 5558 3813 or fill out the form below to get call back with quote.
Disclaimer: All information is kept secure and will not be shared or sold to any third party.